Using the same German profile and components, all our doors are manufactured in the same purpose built factory and all our doors have PAS24: 2016 and Secured By Design accreditation as standard.
We know we have excellent products to shout about and Secured by Design provides us with a coveted endorsement from a security perspective and highly respected industry body. Unlike many companies, we wanted our entire suite, not just one or two doors or an item, to be accredited by Secured by Design to show our customers that all our doors are secure and that when we do something, we do it properly and thoroughly.
The importance of third party certification and testing.
Third party certification is where an independent body reviews the manufacturing process of a product and independently determines that the product manufactured complies with specific standards for safety, quality and performance.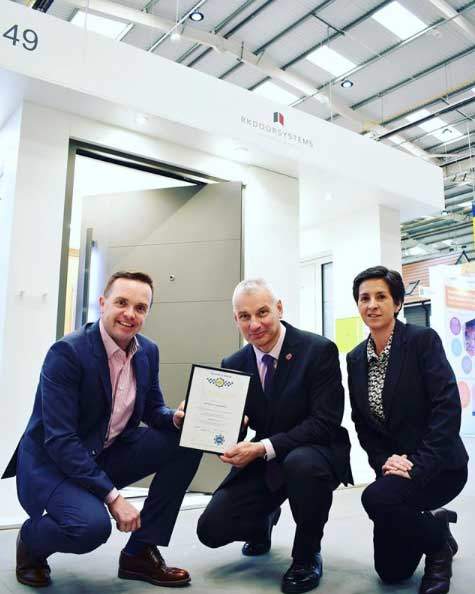 Max Ellis, our sales director receiving our Secure by Design accreditation, RK Door Systems are the first Secured by Design member in Cornwall.
PAS 24: 2016 – What is it?
PAS24: 2016 was produced by British Standards Institute (BSI) as a method of  assessing the security performance requirements of external doors and window types. The levels and methods of attack experienced in the UK and associated with an opportunist burglar are specified. The burglary attempts covered by the standard are those which avoid noise and unnecessary risk. The time spent attempting to gain entry is limited to replicate the time pressures of an opportunist burglar.
Security hardware and cylinder test
Manipulation test
Manual attacks Infill manual test
Infill mechanical load test
Manual cutting test
Mechanical loading test
Manual check test
Impact testing
Secured By Design – What is it?
Secured by Design is an initiative developed and owned by the Association of Chief Police Officers (ACPO). The purpose of SBD is to incorporate crime prevention into the design of fenestration products and new housing developments (Brooke, 2013). 91% of all crime recorded in 1987 was property related.
Secured By Design was created in 1989 the scheme is enforced by a team of around 200 Crime Prevention Design Advisers (CPDA) or Architectural Liaison Officer (ALOs) who operate and contribute to it on a daily basis.
SBD is split into two main sections. Part one is concerned with the aspects of external spaces on a building development such as lighting, parking and surveillance. Part two focuses on the security, weather performance, strength and the durability of the windows and door sets.
Secured by Design, does it work?
Research highlights that SBD housing developments suffer up to 75% less burglary when they are compared to a non SBD development; this is compelling evidence that following the SBD guidelines will cut down the damage and cost caused by such crime
Teedon et al (2009) findings of a new development in the Glasgow housing association  show total house breaking crimes had decreased by 26% in the SBD area, and that attempted house breaking  had decreased by 59%.
The requirements of Secured by Design
SBD specifies that windows and doors manufacturers applying for SBD membership must be certified against a certification scheme operated by a UKAS approved third party certification body, involving factory production control audits. The current SBD requirements are more stringent than ever before, with windows and doors subjected to the following regime.
Third Party Certification for fabricator. A Factory production control (FPC) audit will be used to establish the initial and ongoing ability of the manufacturer to fabricate products covered by a WinMark certification Scheme.
PAS24:2012 Enhanced security testing
BS 6375-1 Weather performance testing
BS 6375-2 Strength and durability testing
BS 6375-3 Additional performance characteristics testing