We do traditional style doors as well as our stunning modern doors. Our new range of classic styles are extremely popular at the moment.
Our traditional style doors are made from the same profiles as the Excellence or Pivot door ranges so you get all the benefits of our Aluminium doors. Long lasting, highly insulated and secure door with a high quality finish, with the traditional designs that we all love, and unlike timber doors you'll never need to paint, stain or varnish... ever and RK Doors will never expand and warp.
As always, our doors are always supplied with PAS24 and Secure by Design accreditation as standard. More details on these certificates can be found here.
We love this simplified take on a traditional 6 panel door. Classic mouldings and beading have been removed in favour of clean recesses and modern lines. You just can't miss the oversized square doorknob! It looks dazzling in our antique bronze patina.
The door interior has been redesigned to compliment a light and airy interior and we feel is the perfect contrast to the jet-black exterior design. This design can be used for both a hinged and pivot door depending on preference.
Georgian Style Pivot Door
Classic Georgian curves perfected by a modern powder-coated Black aluminium finish. This elegant RK7060 Pivot door offers minimal maintenance whilst retaining a modern take on a traditional look.
The boutique aged Bronze 'Sun Burst' door knob adds a focal point to the overall design. Which we feel is required to balance the proportions of this oversized Pivot door.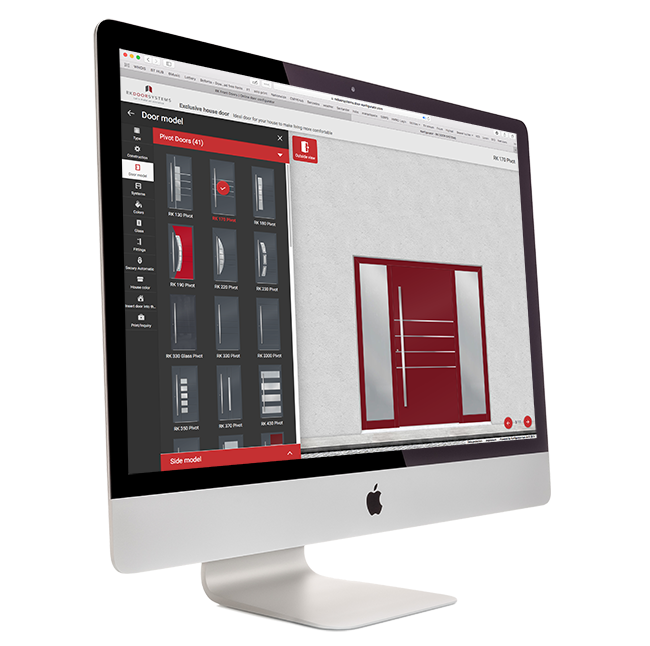 See it on your house...
Use the online door designer below to create your door and see how it would look on your house, or call 01872 222300 to discuss your requirements and we can design it for you.
Choose the type of door construction and style you like
Add add sidelights and /or fanlights
Pick your frame and door colours (standard colours are FREE)
Choose the style of glass you prefer (where relevent)
Pick from a huge range of handles, hinges, entry locks etc
Load a photo of your house, move the door into position, resize it and send us the enquiry
We will get in touch with a price for your door
Premium aluminium modern front doors
We have a range of doors to suit every budget and taste, all 'Secured By Design' and 'PAS24' security accredited, from our Entre range, the Excellence, Traditional style through to the Pivot doors.