Discover why our doors are so special
Exceeding expectations & regulations...
All RK aluminium front doors far exceed the current recommended energy efficiency regulations. Doors energy efficiency is measured as a 'U value' and new doors must have a minimum U value of 1.8W/m2K (1.6W/m2K in Scotland) or less, with lower numbers being better. A typical wooden door might have a U value of around 2.5W/m2K and a lot of new doors will be just meeting the basic requirement of 1.80W/m2K...
Our doors far exceed this level and our 'Excellence' Premium door has a U value rating at an amazing 0.67W/m2K* with our 'Excellence' Standard door has a U Value of 0.92W/m2K*, far better than many other doors on the market.
Enhanced security on all doors...
All our doors, benefit from "Secured by Design" and "PAS 24:2022" enhanced security certification to ensure full compliance with UK Buidling Regulation and insurance requirements and giving our customers complete peace of mind.
You can even add our finger print entry system for added security and convenience.
RK Door Systems can also fit ULTION CYLINDERS  if required, described as the most secure lock ever made, the Ultion cylinder has never been beaten in any test and achieved all leading security accreditations. We understand security is important thats why we offer these highly secure locks as an option.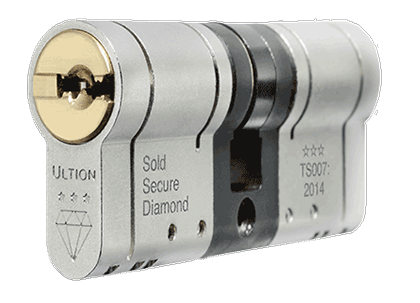 We have carefully selected a range of standard colours that are included in the price of the door, for those who want a truly custom door, we can offer many more colours and finishes to suit your requirements, other colours, wood effects, foil finishes, metallics and ceramic finishes are available at an extra cost.
RK Door Systems aluminium doors are powder coated using the latest technology with the following gloss levels as standard - RAL 9016 White (70-75% gloss) with other RAL colours in the range of 30% (matt finish). The standard colours are also available in a microstructure finish for even higher levels of durability.
Customers RK Door Experience
Watch the video from John Tisbury to discover how RK Doors can elevate your home's aesthetics, security, and energy efficiency, highlighting the following key attributes:
U Values: Uncover the industry-leading energy efficiency of our RK Doors, as John breaks down their impressive U Values to ensure your home remains comfortable year-round.
Security: Gain a comprehensive understanding of the robust security features incorporated into our doors, providing you with peace of mind and protection with PAS24 and Secure by Design Certification.
Door Finishes and Options: Explore the extensive range of customizable finishes and options available.
Installation: John talks though the installation process from removal of his old door to the fitting..
Thermal Efficiency: Learn how our RK Doors contribute to your home's thermal efficiency, reducing energy consumption and making your space more eco-friendly.
With RK aluminium doors you get distinctive design, high security, functionality, quality and warmth as standard. They are available in a range of specifications each offer varying levels of insulation, glazing options and more. You can download a spec sheet for each profile below to help you choose a system that best suits your requirements.
Doors can be viewed in our showrooms or through one of our approved network of RK System dealers and we are on hand to answer any questions you may have.
Up to 94mm deep insulated frame (depending on profile) with mechanical & glued corners for high performance construction and life expectancy

Marine grade powder coat finish as standard suitable for all locations

94mm laminated quadruple glazing available (depending on profile) for maximum security

Extensive choice of external and internal colours giving maximum design choice

Low level threshold as standard for disability access compliance

Triple gasket sealing system for high weather performance

Hidden fixing system with cover trims to frame & door sash for minimal maintenance and clean look appearance

180 deg concealed hinges available on Premium, Exclusive and Standard profiles for minimal flush look internally and maximum opening
316 Grade Stainless steel handles & fittings suitable for all locations

Sidelights and fanlights in single frame construction offering minimal frame design

Optional custom design or glass etching for individual design

Available with motorised locking for use with finger scan locking systems and home smart properties

Secure By Design and PAS 24 Certified for full new build compliance

Optional 25mm high projecting cills for ease of installation

Vast range of finishes, any RAL colour, timber effects, metallics, ceramics, dual finishes, matt or fine structure, with more being added all the time.

Pivot doors have a moveable pivot point to allow maximum clear door opening

Pivot doors require a minimum 1100mm wide for use in replacement situations 
We know Architects love to specify our contemporary entrance doors on a range of projects, so to assist Architects and other profesionals, RK Door Systems are listed the RIBA's product selector, NBS plus and NBS National BIM Library.
Our team can also advice on the most appropriate door system depending on the property of development, from residential to commercial.
Please feel free to contact us for more information.